Creation of a nano-bio device for the examination of neurons
The work conducted by an interdisciplinary research team from the Center of Hybrid Nanostructures (University of Hamburg) and the ScreeningPort of the Fraunhofer Institute for Molecular Biology and Applied Ecology IME in Hamburg made it to the cover of the journal Biomaterials Science.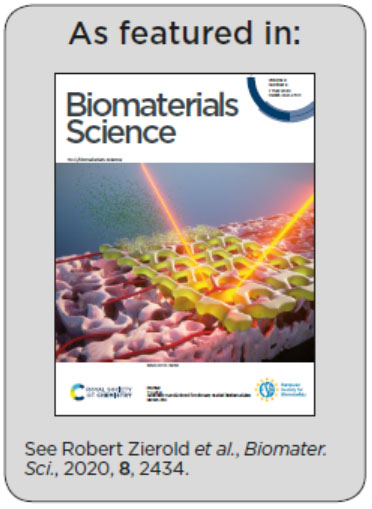 The researchers cultivated electrophysiologically mature neurons derived from human induced pluripotent stem cells within only 28 days in vitro on free-standing nanowire arrays facilitating a tuning of the settling regime. This nanowire set-up allows for the integration of multiple modes of interaction with neurons in a single device and enables bidirectional communication with neural circuits with enhanced spatiotemporal precision. This combination of technologies not only facilitates a greater understanding of the brain in the context of health and disease, but as well aims at impacting the development of novel therapies for neurological, neuro-immune and neuroendocrine conditions.
Harberts J, Haferkamp U, Haugg S, Fendler C, Lam D, Zierold R, Pless O, Blick RH.
Interfacing human induced pluripotent stem cell-derived neurons with designed nanowire arrays as a future platform for medical applications.
Biomater Sci. 2020 May 6;8(9):2434-2446.
This article has been selected as "paper of the month" in Biomaterials Science and is the topic of the latest blog post by the web writer Vivek Damodar Ranjan.